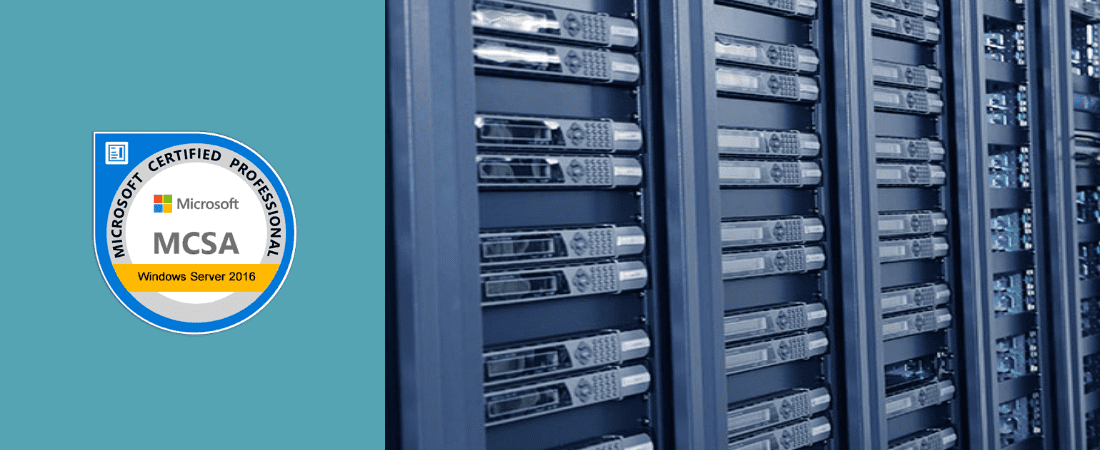 Exam
70-740: Installation, Storage, and Compute with Windows Server 2016
70-741: Networking with Windows Server 2016
70-742: Identity with Windows Server 2016
Duration
2 Months
Time
Daily 2 Hrs
Study Method
Class Room and Labs
Certification
Microsoft
OVERVIEW
The MCSA (Windows Server 2016) Training and Certification Course is an intermediate level certification that enables candidates to monitor and manage Windows Server 2016 operating system, client-server structure, network infrastructure, visualization, domain management and security implementation. The course provides a variety of hands-on lab training and allows candidates to control and manage multiple servers and clients simultaneously. This course is the first step towards your path to becoming a Microsoft Certified Solutions Expert (MCSE).
This exam tests your knowledge and skills related to:
Installation, Storage, and Compute with Windows Server 2016
Exam 70-740

Installation, storage, and compute functionalities available in Windows Server 2016
Installing and configuring Nano Server
Creating and managing images for deployment
Local and server storage solutions (configuration of disks and volumes)
Data Deduplication
High Availability (HA)
Disaster Recovery
Storage Spaces Direct
Failover Clustering solutions
Managing Hyper-V and Containers
Maintaining and monitoring servers in physical and compute environments.
Install Windows Servers in host and compute environments

Networking with Windows Server 2016
Exam 70-741

Networking features and functionalities available in Windows Server 2016
Implementing and managing DNS
DHCP, IPAM
Deploying remote access solutions (VPN and RADIUS)
Managing DFS and branch cache solutions
Configuring high performance network features
Implementing Software Defined Networking (SDN) solutions
(Hyper-V Network Virtualization (HNV) and Network Controller)
Implement IPv4 and IPv6 addressing

Identity with Windows Server 2016
Exam 70-742

Manage identities using the functionalities in Windows Server 2016.
Active Directory Domain Services (AD DS)
Implement Group Policy Objects (GPOs)
Active Directory Certificate Services (AD CS)
Active Directory Federations Services (AD FS)
Active Directory Rights Management Services (AD RMS)
Web Application proxy
send enquiry
Please note that special characters other than . , - _ @ are not allowed
Back to all courses
Need Help... Our Experts will Answer All Your Doubts.